Have you ever had a friend who suddenly upped their game in terms of the way they dressed? When that happens, it can completely change the way you perceive them and you'll likely notice that they change in other ways too – they become more confident for example and they probably start to get more attention from the opposite sex.
Dressing well is something I never really had any interest in until I was recently hired to write some fashion articles. It's not that I looked like a slob or anything, it's just that I was never particularly excited about clothes and didn't make much of an effort to match my outfits. I wore trainers everywhere.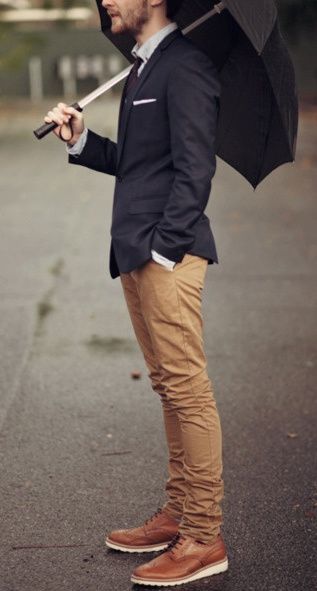 But for some reason, the research I did for those articles managed to really get me enthusiastic about this. Then I actually tried upping my game and found it had a huge impact on my mood, my confidence and the way other people saw me.
It's hard to explain the impact of being really well dressed or of feeling really well dressed. It sends a powerful social signal, it changes your posture and it takes people stand up and take notice. It makes you seem instantly more successful and instantly more charismatic. It makes Grandma's think you're probably an impressive catch and should date their Granddaughters.
Almost every guy wishes there was a way they could gain more respect and feel more alpha overnight. They fantasize about walking into work and everyone turning around and suddenly taking them seriously. They dream of a real-life 'Limitless' pill.
In reality, dressing smarter is the closest thing there is to that.
Anyway, I'm not saying I've got all this down. I definitely still have a huge amount to learn and I'm hardly going to win any 'best dressed' awards. But I feel more confident with it and I know what I'm doing now (for the most part). And I feel that my relative greenhorn status actually means I'm well positioned to pass on the small amount of knowledge I have.
Once you get the hang of it it's actually quite simple…
Here's how you can start dressing a little more alpha. Oh and you don't need to break the bank!
Watch Some YouTube Channels
As much as I'm going to do my best to give you some real take-home pointers, the reality is that this is a very visual topic and it's perhaps easier therefore to learn this from a video.
Two sources I found immensely helpful and inspiring were 'Alpha M' and 'Real Men Real Style'. Check them out! And if you don't like them, try looking for a few other channels with styles that do resonate with you. This is a great way to get some bite-sized nuggets of inspiration.
Pinterest is also very useful but it becomes more useful once you have some basics nailed down (or pinned down I should say!).
Start With the Shoes
They say that every good outfit starts with the shoes and this is truer than you realize. Take an okay shirt and some average jeans and add a really nice, clean pair of shoes and you'll transform the entire look instantly and make it look far more luxurious and impressive.
I used to always wear trainers with all my outfits and unfortunately that just undermined any outfit I had on. Recently, I saw someone in the street wearing the same baggy jeans and scruffy trainers I used to wear and I realized… they looked like a hobo.
So how do you pick your shoes? That's up to you, but a good piece of advice is to try and ensure you have a great pair of shoes for every situation.
You can do this by ensuring you own at least:
A smart pair of black shoes (Oxfords or loafers)
A smart pair of brown shoes (brogues)
A casual pair of shoes (like boat shoes)
Smart trainers
Sneakers
Why Oxfords or loafers for your black shoes? Simple: because they can be worn with a suit but they're also casual enough to be worn with a pair of jeans when you want to go business casual.
Make sure you polish your shoes and keep them looking their best. If you do that, then your whole outfit will be elevated to another level. Also important is to match your shoes to your belt – not only in color but also in material. A nice brown leather belt to go with great brown brogues will do wonders to make a casual outfit a bit smarter and to show that you put more than a moment's thought into it.
Trousers and Shirt
Next up come the trousers and the shirt.
Starting from the bottom and working our way up, you will likely often find yourself wearing jeans. When you do, pick a dark colored jean that will nicely contrast with the color of your belt and shirt.
Whether you're going casual, smart casual or business casual, jeans look great and are a perfect staple of your wardrobe. When you need to smarten things up though, go for some dress trousers or some chinos. You can even get away with chords.
For top half: yes we said shirt. This is really important because when you wear a t-shirt you just look as though you're not bothered or as though you're a man-child (unless you smarten it up with a jacket, which we'll get to in a moment).
The problem with shirts though is that they take ages to iron and this is where guys often lose the patience with looking good. So what do you do?
The answer is to set yourself up for success. If you know you struggle to stay well-dressed then make it as easy as possible for yourself. Invest in a hand-held steamer even! Easier though is to get some easy-iron shirts that you can just run an iron over quickly, or to buy some shirts that don't look creased.
Mizzen+Main is a company that creates shirts made from performance fabric. These never need ironing and in fact they're so versatile and comfy that the company claims you can work out in them! Apparently they're popular with cross fitters.
Another option is to look for chequered shirts which don't look so bad when less ironed. Polo neck t-shirts are also a good look that doesn't need as much ironing.
Don't wear a smart shirt with no ironing though. It just looks flat out bad.
Something else to note is that your shirt should be well fitted. That doesn't mean it should be so tight that you look like a sack of potatoes, but rather that the outfit should be contoured to the lines of your body. If the shirt doesn't naturally fit well, then take it to a tailor!
Of course if you're going very casual you won't always need to wear a shirt – but try to choose a t-shirt that looks a bit smart, like a well-fitted Henley. Avoid anything with a logo on the chest!
Layering
Now you have your base layer, it's time to add to your outfit.
Wearing a jumper over a shirt, with jeans and nice shoes is a great business-casual look that can easily transition from a modern office setting to drinks with colleagues down the pub afterward. To pull this off though, you need to make sure that the neck line is right so that you see the right amount of shirt. A black v-neck is a staple that should be in every guy's wardrobe for this reason (and a dark blue one as a close second!). Throw this over your shirt and instantly you'll look more casual while still staying smart.
Another option is to add a sports jacket to your shirt if you want to look smarter, or to wear a sports coat with a t-shirt even for a kind of laid-back indie look.
A sports jacket can also be added on top of a jumper if the jumper is thin, or you can wear a thick shirt (like a denim shirt) as a jacket with a vest-top underneath. In the winter, a thick jumper with a scarf (tied as a 'loose noose') and a nice long coat can be a great look too.
Either way, adding more layers can create depth and visual interest for your outfit.
Some Final Tips
The great thing about all this is that it doesn't need to cost the Earth. What's most important is that your outfits are well fitted and from there no one will probably know if your black v-neck jumper cost you $10 or $100. Find a few staples that you can rely on and then you can start adding to your outfit from there.
You should top off all your good work with a great haircut and don't be afraid to accessorize with some shades, a decent man-bag and perhaps a nice watch.
Most important though is just to take the effort. As long as you start doing that you'll find that people sit up and take notice and that your style is elevated. It might sound like a lot of effort but trust me, it will completely transform the way you feel and the way people respond to you. Even on days where you're not expecting anything to happen, taking an extra ten minutes in the morning to get ready will ensure you look your best, feel great and create more opportunities.